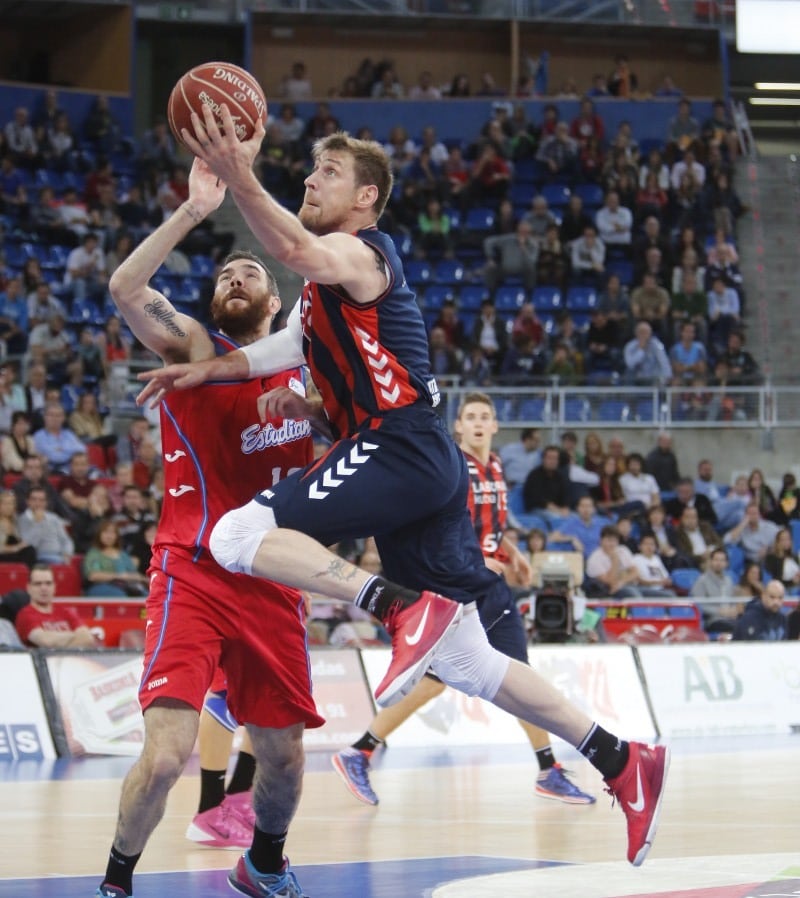 Vitoria counts on Andrés Nocioni as one of the aasets of the team for this very long -again- season. The argentinian power forward will be one of the players that shall inflate the rooster. The question was to what extend an exhausted rooster would allow a fourth defeat on a row.
Laboral Kutxa had failed on european fields and had no wins at ACB league. Sergio Scariolo displayed a bit of guerrilla as soon as he detected it was not going to be a joyful basketball evening. With a rough and regular scheme they faced Estudiantes, a team that lacked continuation.
Injured project center Lucas Nogueira had been replaced by veteran Guille Rubio. Colom, Kuric, Rabaseda, Ivanov and Banic line-up controlled the inside court, especially german center 2m18 Tibor Pleiss. But soon enough there appeared Nocioni to lead Laboral Kutxa: 20-11 for quarter score.
Five minutes of freshness and back to action. New actors got into action. Debut of Maimoldi and Jaime & Miso to settle differences around the handful of points. Nevertheless, some turnovers and blind offensive decisions delivered a 20-4 for the local squad. It again seemed too much for the youngsters.
Andrés Miso injected good shooting to attempt some sort of reaction. From the outside it rarely looked possible as difference was always maintained by local players over +10. Although Estudiantes did not surrender, 'el Chapu' hammered the visitors for a definitive +13 win.
Next stop at the ACB league brings Murcia to the capital city.
MVP of the game was Andrés Nocioni. He halved the team stats (22 pts, 6 rb, 4 as, league score 26pt). From our side we'd stress Jaime Fernández (10 pt, 3 rb, 3 as, 3st for a league total 17).
Luis Arribas @_spanjaard
BOX SCORE
79 – Laboral Kutxa (20+14+28+17): Hodge (6), Jelinek (8), Causeur (6), Nocioni (22), Pleiss (7)-, Heurtel (5), Kaukenas (9), Mainoldi (6), Diop (10).
66 – Estudiantes (11+17+17+21): Colom (6), Kuric (6), Rabaseda (5), Banic (9), Ivanov (8), Rubio (3), Guerra (8), Fernández (10), Miso (11).